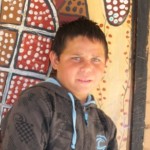 Owen's Stories
Viewing item 1 to 3 (of 3 items)
Ngatji and the Paddlesteamer

This story is about when Uncle Murray Butcher took us out bush and told us the story about the Ngatji who lives in the Darling River and the Paddlesteamer.

The moon shines on my sister.

My story is about how the moon shines at night. this is y sister Larissa. the moon is in the night sky above her.