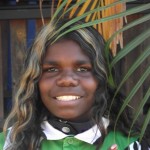 Antonia's Stories
Viewing item 1 to 1 (of 1 item)
Have you ever wanted a baby?

"Frog dreaming, babies, sacred rocks and trees"

Manyallaluk is the place to have it. Manyallaluk has a Frog Dreaming place near the cemetery. If young teenagers or women want to have a baby they will ask their Elders to take them there and smoke them with the leaves. You cant take any Elder you must take the traditional Elders. Its their land, they know where everything is. That's the way it is. Be careful if you throw anything at the trees because you might fall pregnant. They are not just normal trees and rocks, they are sacred from the Frogs.